Mother's Day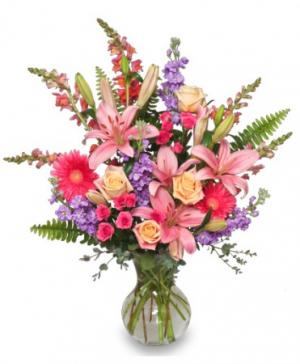 Effervescent Blooms
Bouquet
These flowers are bursting with beauty and happiness! Effervescent Blooms is a stunning arrangement that's full of roses, lilies, snapdragons, gerberas, and lavender. These flowers radiate with elegance and make the perfect gift for the one who loves all things lively and bright!
Order within 4 hours 7 minutes for Same Day Delivery!
A mother's love knows no bounds. Show her just how much you care with a special Mother's Day flower delivery. ADRIENES FLOWERS & GIFTS has the best selection of flowers and gifts for Mother's Day. Send a bouquet of her favorite flowers, or have your florist create something stylish to fit her personality! When it comes to flowers, the possibilities are endless. Come by the shop, give us a call, or click on any of the flower arrangements above to get started.